Brittney Wong is a rich, spoiled student and head cheerleader at Echo Creek Academy.
Personality
Brittney is a stereotypical vain, rich girl who apparently became Echo Creek Academy's head cheerleader only because her father made a large donation to the school.
She dislikes Star, calling her a "pesky magical foreigner" from "Moo-ni".
She cares more about herself than others, as demonstrated when she pushes her fellow cheerleaders out of the way while she attempts to dash to safety in "School Spirit," and by her dismissal of her guests' enjoyment of her birthday party after Star crashed it in "Brittney's Party".
Underneath her arrogance, she seems to have some level of self-doubt; In "Mr. Candle Cares," she has a counseling session with Mr. Candle over worries that her life has already peaked.
In "Collateral Damage," she is as distraught over the destruction of the "Otis the Opossum" statue as everyone else, showing that she held it in just as high regard as her classmates.
Appearance
Brittney has black hair that reaches down to her waist, a light skin tone, pink lipstick, and brown eyes with black mascara.
Her cheerleading uniform is yellow with a white stripe (containing the school's initials) and red trim.
In "Monster Arm", she wears a white and purple shirt, a purple skirt, white socks, and purple shoes. This is what she casually wears, as she wears it in several other episodes as well.
In "Brittney's Party" and "Starcrushed", she wears a purple dress with blue trim on the top and a ruffled skirt, a small purple hat with feather and pearl accessories, a pearl necklace, and dark indigo shoes.
In "Mr. Candle Cares" and "Collateral Damage," she wears a pink hoodie top, matching pink pants (with purple stripes running down the legs) and white shoes.
Relationships
In Brittney's eyes, Star is extremely annoying, and she hates her for stealing attention and popularity away from her, to the point of wanting Ludo to destroy her. Brittney herself does not actively antagonize Star, however, and instead tries to keep herself and Star as separated as humanly possible so that Star doesn't outshine her.
While Marco and Brittney don't interact much, she seems to dislike him, as shown in "Brittney's Party", when she calls him names such as "Barfo Diaz" and "puke boy".
Despite there being little interaction between them, Ludo somewhat likes Brittney for showing the same hatred of Star he does.
Sightings
Trivia
Brittney's name is sometimes spelled in the closing credits and by series crew members as "Brittany".
Based on her last name and physical appearance, Brittney may be of Asian nationality.
She hates when her leadership is questioned, as shown in "School Spirit".
Brittney is terrible at singing, as shown when her guests all covered their ears when she sang karaoke in "Brittney's Party".
She has a habit of whipping her hair when someone or something disgusts her.
She and Ludo share the same hatred for Star Butterfly.
In "Collateral Damage", her face is rounder than usual, suggesting that she has put on weight (possibly due to despair over the loss of the school's beloved statue).
Gallery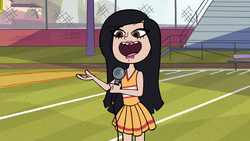 Click here to view the gallery.
References
↑ Daron Nefcy (2015-09-10). @PansageTrent9 14. Twitter. Retrieved on 2015 September 11.
v

•

e

•

d

Star vs. the Forces of Evil Characters