Charlie Booth, also known as Gustav and François, is an aspiring chef and con artist. He lived at the Diaz Household on two occasions (the latter of which being only a visit while the family hosted Star Butterfly), posing as a foreign exchange student named "Gustav" from Scandinavia.
Actually hailing from a drab, boring city called Bakersfieldville, Charlie's dream is to open a restaurant there and bring flavorful joy to its population.
Appearance
Charlie has cream-colored skin, short whiskey-brown hair, and black eyes. He wears a blue, red, and turquoise beanie and long-sleeved sweater with turquoise and red Scandinavian patterns, short brown pants, long red socks, and brown cleated boots.
In his "François" disguise, Charlie has a mole on his left cheek, and he wears a small black beret, a red neckerchief, a long-sleeved shirt with black and white stripes, grayish-blue pants, and brown shoes. In "Freeze Day", his eyes are blue instead of black.
History
He makes his debut in "The Other Exchange Student", quickly winning over the Diazes with his meatballs and stories about Scandinavia. Star, jealous of his popularity among the family, began spying on him, eventually becoming convinced that he was planning to cook and eat them. She attacked him at Isolation Point (the site of an intended picnic for him and the Diazes) in an attempt to get him to confess. Charlie told her the actual truth, which Star used to blackmail him into leaving.
Shortly after, he is seen reuniting with another family while posing as a French foreign exchange student named "François".
He is briefly seen in "Freeze Day", at a birthday party for one of the members of his new host family. He also briefly appears in "Marco Jr." at Angie's baby shower.
Personality
Charlie exudes a friendly and upbeat personality while interacting with the Diazes as "Gustav", happy to serve them meatballs. When Star's suspicions threaten to expose him, he becomes nervous and hostile towards her.
Sightings
Gallery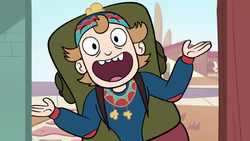 Click here to view the gallery.
v

•

e

•

d

Star vs. the Forces of Evil Characters