Cobalt Ferrero is an interdimensional painter who works out of his own atelier in the Quest Buy basement and appears in "Marco Jr."
Appearance
Cobalt is a small humanoid creature with purple skin, dark purple shoulder-length hair with a receding hairline, black eyes, pointed ears, a short green striped horn, pink butterfly wings, and a light-green lizard tail. He wears a faded yellow shirt, a white jacket, white pants, blue-soled sandals, a gold chain, and a gold wristwatch. He also has a five o'clock shadow and a gold tooth.
History
In "Marco Jr.", Cobalt Ferrero appears as a renowned painter who works in his own art studio in the basement of Quest Buy ("Atelier de Cobalt Ferrero"). Star Butterfly and Marco Diaz ask him to paint Marco's portrait for Marco's mother's baby shower. He tells them that the process typically requires weeks or months, but he agrees to a shorter process in exchange for 650 dollars.
Cobalt administers an "Essence Test" to Marco and paints his portrait. However, it turns out hideous due to Marco's rushed test answers, and it later causes Marco to transform to match the portrait's appearance. When Star, Marco, and Marco's parents return to Cobalt to fix him, Cobalt gives Marco another Essence Test and tells him to answer the questions truthfully.
After Marco is turned back to normal, Cobalt offers him and his parents a discount on a family portrait, but Marco refuses.
Powers and abilities
Magic artistry: Cobalt has the ability to make life-like paintings. In order for them to appear so realistic, he studies his subjects closely by living with them, breathing with them, and even eating their hair. The portraits he paints are so life-like, in fact, they sometimes magically alter the appearance of the subject or subjects that they depict.
Sightings
Gallery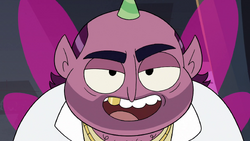 Click here to view the gallery.
Trivia
Cobalt Ferrero may have been inspired by the character Gino Fratelli from the web series Khonjin House.[1]
References
v

•

e

•

d

Star vs. the Forces of Evil Characters