You wear a helmet in the gym shower one time, and you're labeled for life!
This article has a conjectural title and doesn't have an official name yet. When its official name has been confirmed, remove this template.
The guards of St. Olga's Reform School for Wayward Princesses are, as the name suggests, the robotic guards/truant officers who work at St. Olga's Reform School for Wayward Princesses. One of their jobs is finding princesses who try to avoid being sent to the school, or have escaped, and bring them in.
Appearance
The three guards seen all have masks with red glowing eyes, though one has a more mechanical mask while the other have seemingly stitched masks. They also wear brown/grey uniforms with white shirts and black gloves.
The lead guard is shorter than the others, has a more mechanical-looking mask, and is the only one whose mask has what appears to be a mouth. He also wears a dark blue tie, and his buttons are located at the lower left half of his uniform.
One guard has a more brownish uniform and his mask is blackish, with four spikes pointing upward. He has a single button on the left side of his uniform, and a black sash around his chest.
Another guard has a grey uniform, with his mask having what appears to be two animal-like ears. He has three buttons on the left side of his uniform.
In "Skooled!", it is revealed that the guards were reprogrammed to serve the princesses, and their robotic hearts also serve as explosive devices.
Personality
The guards take their jobs seriously and are very determined, seeing as they crossed multiple dimensions just to get to Pony Head.
Relationships
They were given the task to track down and send her to the school, although they did not interact with the princess up until they arrested her.
They seem to have some respect for the giant king, halting their attempts to capture his daughter so he could talk her down.
Similar to Pony Head, they were assigned to track down and send her back to the school.
The guards have high respect for the headmistress and willingly carry out her demands, whether they be bringing in wayward princesses, guarding the school, or stomping out any rebellions.
Sightings
Gallery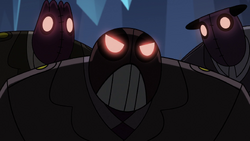 Click here to view the gallery.
v

•

e

•

d

Star vs. the Forces of Evil Characters