Jorby is a wolf monster and Kelly's sparring partner who first appears in "Starcrushed".
Appearance
Jorby is a large wolf-like monster with pale maroon fur (with darker stripes along his back and legs), yellow eyes with cat-like pupils, fin-like ears, and sharp black claws. He has two sets of horns: one pair being short tan ones, and the other set having two points and fading to a dark maroon color closer to the top.
History
Jorby first appears in "Starcrushed" sparring with Kelly in a nondescript desert dimension. After Kelly is called by Star Butterfly for an emergency friend meeting, she calls a timeout, and the two exchange a fist bump before Kelly leaves.
He can be seen being ridden by three princesses in the background for a moment in "Princess Turdina".
In "Lava Lake Beach", Jorby appears while Marco Diaz talks to Kelly about her breakup with Tad. He is jealous and tries to fight Marco because he thinks he's Kelly's new sparring partner. After Kelly walks away, he apologizes and says he would help Marco talk to her, but he has his own girlfriend (a goose) to deal with. Near the end of the episode, Jorby and his girlfriend briefly appear again sharing ice cream on the beach.
In "Divide", Jorby takes part in the battle against Meteora Butterfly as one of Marco's "Marc-nificent Seven", only to lose his soul after their initial trap fails.
In "The Right Way", Jorby helps Star and her friends protect Monster Castle from an invading Solarian Warrior, but he gets struck by its Solarian Sword and remains incapacitated in "Here to Help" and "The Tavern at the End of the Multiverse".
In "Cleaved", Jorby is healed of his wounds when magic is destroyed, and he returns to his home dimension to continue his love of fighting with Kelly.
Sightings
Gallery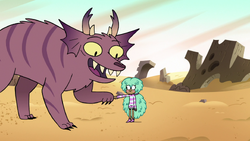 Click here to view the gallery.
v

•

e

•

d

Star vs. the Forces of Evil Characters