"The Other Exchange Student" is the sixth episode of the first season of Star vs. the Forces of Evil.
It premiered on April 6, 2015, alongside "Monster Arm".[2]
Synopsis
The Diaz family's charming former exchange student, Gustav, comes to visit and Star is convinced that he has an evil motive for returning.[3]
Plot
Star wakes up to a surprise party held by the Diaz family to celebrate her 47th day on Earth. As they celebrate with a cake that Rafael made and a poem that Angie wrote, the doorbell rings. Marco opens the door to see Gustav, a Scandinavian foreign exchange student who used to live with the Diazes. The Diazes happily reunite with Gustav, immediately forgetting all about Star. Gustav charms the Diazes with gifts from Scandinavia, delectable meatballs, and stories of his travels, but Star is not impressed.
The next morning, Star wakes up to another surprise party, but it is in celebration of Gustav. Feeling ignored, Star sits on the couch and notices several suspicious items in Gustav's bag: a book called "Scandinavian for Doofuses", a "Customs of Scandinavia" language tape, and a map of Europe. Gustav snatches his bag away and ominously tells Star to mind her own business. Star tries to tell Marco about Gustav's suspicious behavior, but Marco thinks she is just being jealous.
Over the next few days, Star spies on Gustav and notices him making secret phone calls, packing an axe into his bag, and taking measurements of Rafael and Angie while they sleep. She pulls Marco aside to show him a conspiracy wall of her investigations and says she is close to figuring out his plans. Realizing that Star is losing her mind, Marco leaves to go on a picnic with his parents and Gustav at Isolation Point. As Star pieces together Gustav's actions over the course of his visit, she comes to the conclusion that Gustav plans to cannibalize Marco and his parents. She catches up with the Diazes' car as they leave and tries to warn them through the window, but they cannot hear her.
Star uses her magic to turn a sign pointing to Isolation Point. As the Diazes make a wrong turn, Star continues on to Isolation Point by herself. There, she sees Gustav at a campfire holding the axe. Star jumps out and confronts Gustav, and he runs away. Star gives chase and eventually corners Gustav, and he surrenders. While Gustav was not planning to eat the Diazes, he does admit that he is not from Scandinavia. He reveals that his real name is Charlie Booth and that he is from a boring city that no one's ever heard of called Bakersfieldville, where everyone lives out dull, depressing lives. He explains that his phone calls were to his meat supplier, the axe was to cut firewood for the picnic, and the meatballs were because he dreams of becoming a chef and opening a restaurant in Bakersfieldville. (However, his reasons for measuring Rafael and Angie in their sleep are unexplained.)
The Diazes finally arrive at the campsite, and Star decides not to reveal Charlie's true identity to them. In return, Star has Charlie leave the Diaz household and go back home. Once he is gone, the Diazes celebrate Star's 51st day on Earth. Meanwhile, Charlie reunites with another host family under the guise of a French foreign exchange student named Francois.
Characters
Major characters
Minor characters
Production notes
Songs
Title in other languages
| Language | Title | Translation |
| --- | --- | --- |
| Chinese | 其他交換學生 | Other Exchange Student |
| Dutch | De Andere Uitwisselingsstudent | The Other Exchange Student |
| French | L'Autre Étudiant étranger | The Other Foreign Student |
| German | Die gute Star | The Good Star |
| Hebrew | התלמיד הזר האחר | The Other Foreign Student |
| Hungarian | A másik cserediák | The Other Exchange Student |
| Italian | L'altro studente di scambio | The Other Exchange Student |
| Japanese | もう一人の交換留学生 | Another Exchange Student |
| Korean | 수상한 교환학생 | Suspicious Exchange Student |
| Polish | Inny uczeń z wymiany | Another Exchange Student |
| Portuguese (Brazil) | O Outro Estudante de Intercâmbio | The Other Exchange Student |
| Portuguese (Portugal) | O Outro Aluno de Intercâmbio | The Other Exchange Student |
| Russian | Другой студент по обмену | Another Exchange Student |
| Spanish | El Otro Estudiante de Intercambio | The Other Exchange Student |
| Thai | นักเรียนแลกเปลี่ยนอีกแล้ว | Another Exchange Student Again |
Transcript
View the episode transcript here.
Gallery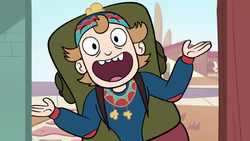 Click here to view the gallery.
Trivia
This episode was released early on WATCHDisneyXD.com, the WATCH Disney XD app, and Disney XD on Demand on February 23, 2015.
Rob Paulsen stars as Charlie Booth/Gustav.
Revelations and continuity
As of the end of this episode, Star has been on Earth for fifty-one days.
This is the first episode to have one of Ludo's henchmen appear, but not Ludo himself.
This episode reveals that the Diaz family hosted a number of foreign exchange students before Star, including Gustav.
Allusions
The Sooper Game Guy is a reference to Nintendo's classic Game Boy handheld.
Lederhosen Tycoon is a reference to RollerCoaster Tycoon.
Marco's line "No one can hear you scream" is a reference to the tagline of the 1979 film Alien.
The gift "Gustav" gives Rafael, a "genuine Viking helmet", may be a clever joke given that the Vikings didn't actually use horned helmets, making the gift as ungenuine as the bearer.
References
v

•

e

•

d

Star vs. the Forces of Evil Episodes